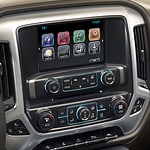 With Apple CarPlay, drivers can access all of the personalized entertainment and useful apps that make their iPhones so indispensable right through their vehicle's touchscreen.
When planning a trip, available navigation apps make following the correct route a breeze and display themselves clearly on the touchscreen. It's easy to scroll through favorite playlists or podcasts to make the trip go by faster. If you've got business that can't wait until you get to work, it's a simple matter to make phone calls and send or receive messages while you're driving. When mealtime rolls around, your vehicle can help you pick the perfect spot and then calculate the most efficient route to get there.
Simply sync your iPhone to your vehicle wirelessly with Bluetooth to have instant access to all apps and features. Drivers can even customize the way their touchscreen display looks by choosing from a range of wallpapers and color schemes.