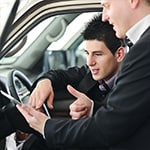 Test driving a vehicle is important because it can tell how the vehicle performs before you buy it. However, test driving a vehicle involves more than just driving it. Here are some test drive tips that may prove helpful.
Ask the dealer to show you a reconditioning report so you know everything the dealership may have done to the vehicle. Also, ask to see a Carfax vehicle history report, which will show everything done to the vehicle even before it got to the dealership.
Bring someone with you. If you forget to ask certain questions, your friend can help. Look under the hood. Even if you don't know what you're looking at, the dealer doesn't know that. Check smaller interior parts that might be broken, such as locks, doors, windshield wipers, etc. Test all these parts as well. If you like a certain model, test drive two different ones.