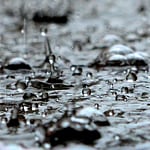 Driving in the rain is a skill that takes practice, but there are a number of steps you can take to safely drive when it is raining out. Pay attention to the weather, and pull over on the side of the road if there is a major downpour.
If you see significant puddles on the road, be mindful not to drive through the puddles. You can't be sure how deep the puddle is, and it can be dangerous to drive through if it is big enough. Pay attention to any hazards that are on the road, and make sure you don't have any distractions within the vehicle.
Be mindful of how you take turns, as the road can be a bit slippery when the roads are wet. Take wider turns, and give yourself enough time in case you slip a bit when you put on the brakes. Stay safe on the road when you practice good driving tips.