Out of State Buyers
WELCOME OUT OF STATE BUYERS
DON'T LIMIT YOUR SEARCH BY LOCATION
More than ever, Savvy internet buyers save money by searching pre-owned car prices nationwide. We are proud to offer you a completely transparent pre-owned car buying process with no dealer fees and Fixed, Below Market Pricing. With a business model built on speed and efficiency, we have the experience and expertise to help you Buy Smart and facilitate Shipping or Pick-up quickly.
Pre-owned car prices can be drastically different by state. Factors such as Demand, Availability, Weather Conditions, Fuel Prices, and more can affect pricing by location. With Budget and Value being the biggest driving factors to Buying a pre-owned vehicle, don't limit yourself to just the vehicles in your area. Save Money, Find the Exact Car you want, Avoid the Typical Dealer Experience.
about 15 million cars are sold annually over the internet
So your not alone in shopping out of your area. TruWorth's Auto Experts have the experience and information to help you pick the right car, and get it home.
SHIPPING YOUR CAR...
It's Not As Scary As it Sounds.
Finding a way to get your new purchase home can be overwhelming. TruWorth Auto can help you navigate this process. We want to help make sure that getting your car home was as easy as purchasing it. Ask us for preferred carriers to ensure a convenient and safe shipment to your home, wherever it may be!
BE AWARE OF SALES TAX LAWS
They Change From State to State.
All vehicles purchased within the State of Indiana must be charged the applicable state sales tax based on the reciprocal sales tax requirements of the State of Indiana. Please refer to the Indiana Department of Revenue site to view what we are required to collect.
Please inquire with us for any clarification.
"Best car buying experience I've ever had!"
Pushy sales team? Nope. Hidden fees? Zero.
Hours and hours of haggling and paperwork? Not in our house.
TruWorth Auto was designed with you, the customer, at the center. Our model is simple, effective, and it removes the worst parts of the traditional car-buying experience. Just quality cars, fair prices, and a friendly, non-commissioned sales team ready to help you.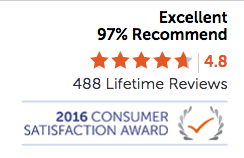 Read Reviews...