3rd Party Inspection | Pre-Purchase Evaluation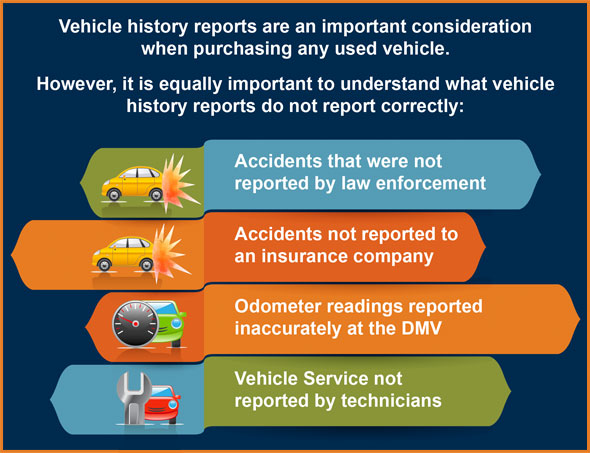 TruWorth Auto wants you to drive away knowing that you have the best vehicle possible. We understand the questions you will ask, and that's why we provide you the confidence and trust of a Pre-Purchase Evaluation performed by our qualified Mechanics. Whether you are buying from TruWorth Auto or just want an independent opinion on a vehicle you are considering elsewhere, we want to help.
Most Experts say, "Never buy a home without an independent inspection." Inspections routinely save consumers thousands of dollars on homes and provide information on the undocumented history of that home. Should buying a vehicle be any different?
In the automotive industry everyone knows they should look at a vehicle history report before buying a vehicle, but is that enough?
So, even though vehicle history reports are definitely an important piece of research when buying a used vehicle, they don't give you the entire story! Let me propose this hypothetical situation and then you make your own decision. You are looking to buy a 2010 Mercedes E-350, but you are concerned because the vehicle history report says it has an accident report where minor/moderate damage was reported. Most buyers don't look any further, but because this vehicle is priced well below market value, you continue your evaluation. You look up the accident report and find out that the police were called because the driver's rear window was broken out and the owner's laptop and personal belongings were stolen. Because of the value of the laptop and personal belongings, a report was filed and an insurance claim was started. Now this 2010 Mercedes E-350 went from being a mint condition, never been wrecked, no prior paint work or damage vehicle to a vehicle with a bad vehicle history report. Because of how society views vehicle history reports, the person who traded in this vehicle lost an extra $3000 to $4000 solely due to broken piece of glass, no different than having a cracked windshield replaced. Now you have a chance to save an extra $3000 to $4000 because you got a Pre-Purchase evaluation done to find out the truth about this major acquisition. Now, do you pass on this vehicle because of the bad vehicle history report or do you buy it?
Here's another statistic for you. Every year in the automotive industry, there are over 1,000,000 used cars sold in the United States. Nearly 15% of those cars are either vehicles that have been shuffled from state to state until a clear title is obtained, or are vehicles in which the VIN plates have illegally been replaced with VIN plates of a similar car with a clear title. That means every year over 150,000 cars are sold with a good vehicle history report and a clear title to unsuspecting buyers not much different than yourself.
That means without a Pre-Purchase Evaluation performed by qualified people you could be that unsuspecting buyer who buys a car that has:

An accident not reported to an insurance company
Damage by floods, fire, hail or other natural disaster
An odometer rolled back
A branded title (e.g., junked, salvaged or rebuilt)
Been repossessed or stolen
Had the VIN plates replaced